North Creek Community Farm is no longer in business
Subscribing to a vegetable share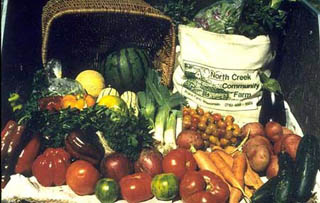 How it works
The harvest season lasts from mid-June to the first week of October. On your selected delivery day, visit your drop site between the hours of 5:00 and 9:00 pm. Here you will find a box marked with your name on a clothes pin attached to the box. Remove the clothes pin and attach it next to your name on the announcement board. Take the box home with you, empty it and bring it back the next week.
A full share, with 15-35 pounds of produce picked fresh from the fields, is enough to feed a typical family of four. A variety of vegetables are delivered each week. Shares will be delivered weekly for approximately 15 to 18 weeks, depending on the length of the growing season and the share type. In addition to delicious fresh vegetables and herbs, you will also receive decorative flowers, a weekly newsletter (sample) with updates and recipes, and announcements of farm festivals.
How much does it cost?
New this year, shares are available for purchase on a sliding scale. This is both to keep me farming and to allow people with different income levels to have a membership in the farm.
Full share $550 to $650, with a target price of $590
Split share $280-$330 per half, with a target price of $295
Please pay what makes sense for your family.
A deposit of at least $150 is due when you sign up, and final payments are due August 1, 2016. You must choose a drop site from the list below and include it in your membership form.
If you choose the split share option, you will need to find a share partner. Ask your friends, neighbors or co-workers. Have them send in their own membership information card and payment. You both have to pick up at the same drop site. The box is not divided into half shares when it comes from the farm and must be split either at the site or taken home and divided. The half share price includes $10 for administrative costs. If you have any questions about splitting a share, please call Kate at ...